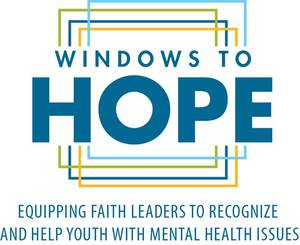 TUESDAY, MAY 2, 2017


8:30 a.m. to 2:30 p.m.
Richardson Civic Center
411 W. Arapaho Road, Richardson, TX 75080

CEUs offered. $15 registration includes continental breakfast and box lunch.
Kosher and Halal meals available upon request.

Windows to Hope is a nondenominational conference open to all faiths.
Windows to Hope can equip you to
more effectively meet the mental health needs of teens and
young adults.
• Examine the

role of the faith community

in caring for youth with mental health needs
• Learn to

recognize the symptoms

of mental illness in teens and young adults
•

Discover resources

in the community for mental health treatment and support
• Learn how to

respond to and support families

with a young person who has mental illness
KEYNOTE SPEAKER
---
CPR in a Mental Health Crisis


Rev. Susan Hawkins Sager


Interfaith Pastoral Care
Past President, New Milestones Foundation



What would you do in a mental health crisis? Most folks wouldn't have a clue. They'd be more likely to know how to respond if someone suddenly collapsed. At the very least, they'd know how to get help. This session uses the popular acronym, CPR, as an easy way to remember how to assist in a mental health crisis. This session also discusses suicide intervention, prevention and postvention

.
PLENARY SESSION
---
Creating a Mental Health Action Plan: How to Create a
Network of Support to Encourage Mental Health in Your Community
Brad Schwall, D.Min.


Pastoral Counseling Center

Carrie Davidson, Psy.D.


Pastoral Counseling Center

Nathanial Strenger, Psy.D.


Pastoral Counseling Center
Drs. Schwall, Davidson and Strenger will facilitate a time of discussion and brainstorming with other faith leaders and youth development professionals and make a plan for taking what you've learned at the Windows to Hope Conference into your community. The discussion time will provide you with practical and creative ideas for encouraging the relational and emotional well-being of the families you serve.
WORKSHOPS
---
Including All the Colors of the Rainbow: An Exploration of Mental Health Trends and Risks for LGBTQ Youth


Tony Walker, Ph.D., LPC-S


Uplift Education



LGBTQ youth face unique struggles that place them at significantly higher risk for suicide, depression and other serious mental health concerns as compared to their heterosexual peers. This session will explore those mental health challenges and examine research-based interventions and strategies that can be used to help support these youth. An overview of current academic literature on the topic will be included.
Sexting, Inappropriate Content, TMI: Risky Behaviors Youth Are Engaging in Online and How to Prevent It


Meghan Zuraw, J.D.


Texas Regional Office – Dallas, National Center for Missing & Exploited Children



More than 80 percent of the 400,000 missing children reports received each year are endangered runaways, and many of these cases start online. Children and teens are posting things they shouldn't be posting, sharing too much information, and talking to people they don't know online. However, with proper intervention, risky behaviors can be minimized, and children can learn to appropriately and positively use technology. Participants will learn about the areas of risky online behavior in youth, how to implement proven prevention education with their students, and how to empower adults to talk to children about their online presence.
Prevention and Awareness of Relationship Violence among Our Youth


Ryan Thomas


Hope's Door New Beginning Center



This presentation of surprising statistics, types of abuse, associated red flags and other abuse-related behaviors will shed light on the unique aspects of relationship violence experienced by teens and young adults. You will gain a further understanding of the dynamics of dating violence and practical solutions to helping youth identify red flags behaviors, abuser tricks, safety planning, self-worth and the roots of healthy and unhealthy dating relationships.
Aftermath: Helping Youth Cope with Grief and Loss


Vanita Halliburton




Grant Halliburton Foundation





When a death or tragedy occurs, the effect on a young person can be significant. Parents, teachers and spiritual leaders play a vital role in helping them process and cope with loss and reach constructive grief resolution. Additionally, when tragedy occurs within a congregation or youth group, the leaders have a critical responsibility to respond quickly with appropriate communications, counseling, and crisis management. In this session, we will discuss the impact of loss on adolescents and specific guidelines for response to crisis, tragedy or death within the faith setting.
Protecting Youth from the Damaging Effects of Pornography


Julie Landsaw, MA, LPC-Intern


Mobile Counseling



The effects of early exposure to internet pornography are known to be traumatic and to have long term negative consequences, yet some statistics say 66% of teens are viewing it daily, unbeknownst to their parents. We want to empower those who work with children to be aware of and to provide education, hope and resources to the growing community of children hooked in the addictive cycle of viewing online pornography.
Creating Hope and Healing for Families with Eating Disorders




Kimberly Martinez


The Elisa Project



This workshop is designed to provide community professionals with an overview of essential eating disorders topics and how eating disorders impact family dynamics. By attending this interactive session, you will become empowered to assist and guide families through the healing process.
Sponsors
CONFERENCE UNDERWRITER
---
Karen and Randall McCleskey
FAITH SPONSOR
---

HOPE SPONSORS
---
LOVE SPONSORS
---
Partner with us as a conference sponsor––sign up today!
For information on sponsorship opportunities contact Sierra Sanchez at SSanchez@GrantHalliburton.org.
Presented by


An initiative of Grant Halliburton Foundation